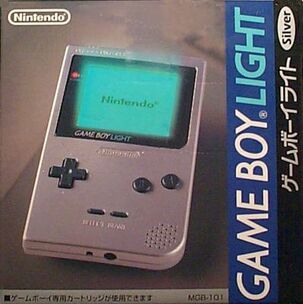 The Game Boy Light is a version of the Game Boy only released in Japan, and it wasn't released in the United States, Europe, or Australia. It was the first Nintendo handheld to feature a backlit screen, and the only one until the second version (AGS-101) of the GBA SP was released. The Light was not released elsewhere because Nintendo felt that the west wanted color screens, not light. The year that the Light was released, the Game Boy Color was released worldwide, while the Light was a Japan exclusive.
At launch there were two colors available, Gold and Silver. Later they added others, including limited edition colors.
The Game Boy Light uses two AA batteries, as opposed to two AAA batteries which the Pocket uses. It gets around 20 hours of battery life with the backlight off, compared to the 10-11 hours the Pocket gets. With the backlight on it gets around 12 hours of battery life. The unit is slightly larger than the Pocket.  The backside is curved, similar to the Game Boy Color, to accommodate the batteries. The overall unit also has a little larger dimensions than the Pocket.
Although this Game Boy is only in Japan, it can be purchased from websites selling the Game Boy from any country.
Community content is available under
CC-BY-SA
unless otherwise noted.